You Can Help Refrigerator Magnet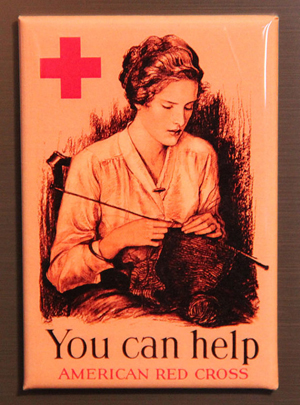 This item is a reproduction of the You Can Help World War I poster on a 2" x 3" magnet.
This poster was originally created and designed by illustrator Wladyslaw T. Benda in 1918. It served as a Red Cross recruitment poster and shows a young woman knitting, encouraging citizens to knit items for our troops at war.
During World War I, the impact of the poster as a means of communication was greater than at any other time during history. The ability of posters to inspire, inform, and persuade combined with vibrant design trends produced thousands of interesting visual works.
The original artwork has been digitally restored and enhanced by me, then printed onto a 2" x 3" full back magnet. The magnets have a protective mylar cover on them which is exceptionally durable and helps protect against water damage, scratching and denting.
$3.00 each